Fashion bloggers have redefined personal style in a way retailers, designers, and publications haven't been able to do. Bloggers are a rare breed of creative types, entrepreneurs, dreamers, and fashion-forward thinkers. Does this sound like you? 
Getting your foot in the door of the fashion blogging world can be daunting. It's an extremely competitive world, filled with millions of content creators constantly keeping up with the latest trends of the season. With a demanding audience spoilt for choice, it's hard to figure out how to differentiate yourself. In this article you'll learn how to get your stiletto-clad foot in the door with these tips and tools!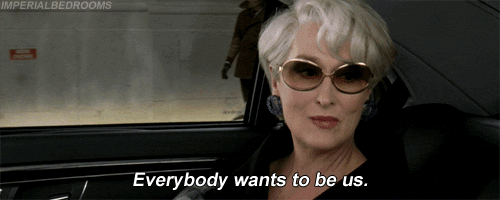 Don't Be Afraid of Being Online
Social media plays a crucial part in building your following. It allows you to be discovered and engage with your fellow fashionista community. Top social media channels to start building are:
Facebook

Instagram

Pinterest

Twitter
Those are the most popular social platforms and the ones that brands will want you to have. Don't spread yourself thin by jumping on every social space. I would start with one and use your other channels to help cross-amplify your blog. 
Finding What Makes You Special
Before you can start a blog, you need to decide what makes you different from everyone else and focus on that. Start by asking yourself, "What do I like? What is the message that I want to share with people? What can I create that will be relatable?" Draw inspiration from your personal mantra, closet, or anything that sparks your creativity. 
For me, I believe that being flirty, nerdy, and thriving is a great way to go about life. This motto set the tone of my blog @styleandtease - rosy pinks, flirty captions, and positive messages sprinkled throughout.
Building on Your Brand 
Once you've got a niche, name, and some perseverance, you can go ahead and buy a domain and create website. Not a web designer you say? Same. BUT! You don't need to code to have an amazing website.  I used Wix, Wordpress, and Squarespace in the past and they are easy to use and a great place to start. 
Quality Content 
​​Story time: I didn't start blogging with the intention of being a style blogger. TL;DR, my best friend and I (@calmdownamanda) were really into photography in high school. We were THOSE angsty art teens and used each other as models. We had to plan our own hair, makeup, and outfits (see pop-art comic shoot below, 2013). When I started posting, it turned out that other people thought it was cool content too - and now we are here. 
To attract people to your blog, just think about if it's worth spending their social currency on you (likes, RT's, comments etc). A photo that's out-of-focus or has poor lighting can make a user mindlessly scroll pass without double-tapping.
*Tip: Investing an extra 15 minutes to edit your photos or a nicer camera can really make a difference in the long run!* 
Stick to a Content Calendar 
In the infant stages of your blog, you might get really excited and just post all of your photos from a recent shoot at once. Pro tip: don't. The biggest problem most bloggers face is planning and creating stellar content on a regular basis. Consistency is key. Set realistic goals about how often you will post. If you post too sporadically, followers can lose interest and stop visiting. That means it's important to allocate times to shoot content as well.
Working with Brands 
In order to monetize your blog, you need to reach out and apply to affiliate programs. That's right, collaborations don't just fall out of the sky. Usually, you would approach brands that align with your design aesthetic. A great way to showcase your blog is through a media kit. 
Think of your influencer media kit as your business card, CV, and portfolio of work all in one document. Your media kit should reflect not only your social growth and status but also your personal brand and style. You can also include previous brands you've worked with and your rates for specific services.  Canva is a great tool with free media kit templates. See my media kit below:
 
Find the template for my media kit here.
Have Fun With it, it's Your Blog After All  
Fashion is fun, but taking it too seriously ruins the whole thing. If you were born to create, then create something the world hasn't seen before. If you were born to be a writer, start telling your story. If you were born to do this, then do it. I can't wait to see how your fashion blog turns out!
Stay nerdy, flirty, and thriving xx
- Andrea from Styleandtease 
Love fashion and want to make it your career? JCI Institute Vancouver's Fashion Business & Creative Arts Diploma Program provides students with a comprehensive overview of the fashion industry, combining creative and business elements. This diverse approach gives our fashion school grads a distinct advantage both in knowledge and skill. Prepare for many jobs in the fashion industry, including becoming a fashion buyer, fashion stylist, or for work in fashion merchandising. If becoming a fashion designer is more your speed, choose our Core Fashion Program. This course at our fashion design institute will give you all the skills you need to be a fashion designer. Choose between our fashion programs to find the best fit for you!
 
Please reload