Intimacy means "Into-Me-See". It's connecting with someone so we can "see into" who they really are, and they can "see into" us. Since it's Valentine's Day, I wanted to share an intimate moment with you guys! In the form of short stories, here are 10 things you probably didn't know about me.
 
I am introverted. "But you don't look introverted?". Yes, I make a constant effort to acknowledge people and carry a conversation but at the end of the day my social batteries are drained. I don't do well in groups bigger than 20 in intimate settings and I prefer to make meaningful conversations rather than small talk. It gives me major anxiety and I'd rather not put myself in a situation where I don't feel comfortable! If you want to learn more about how I am feeling, here is a relatable article, Signs you're an extroverted introvert. 
 

Growing up having a dad as a marine mechanical engineer was the best thing ever. He supervised a team of skilled men who built luxury yachts. The yacht he was most proud of was for the movie, Fool's Gold (2008). Which meant my little brother and I got to run around 30 million dollar luxury yachts for fun! Not every kid could experience something like that...
 

When I was younger, I was super into all things crystals and rocks. If you ever went to The Crystal Ark in Granville Island, you would of found little Andrea rolling around in the rock pit telling you everything you needed know about semi-precious stones.
 

Living in Vancouver, we are amongst a plethora of mixed children. Me being one of them. Every time someone asks me, "Where are from?" and I reply with, "Canada" they are never satisfied with my answer and continue to tilt their heads. Then I have to tell them this story:
My mom was born and raised in Brunei but she is not Bruneian. She couldn't get a citizenship because her parents are not Bruneian.  So her parents got her a Malaysian citizenship BUT she never actually lived in Malaysia. She self identifies herself as Malaysian-Chinese BUT she also has Australian descent from her father's side. So she's Malaysian-Chinese and Australian. For those who don't know, Brunei is a country in the island of Borneo, east of Malaysia. It's one of the few countries that's still run by a Monarchy!  My dad on the other hand was born in Vietnam but, he is half Chinese and Vietnamese. So you can do the math and figure out what I am.
 

I had eczema on my face which spread and lead into an infection. Imagine a greasy Costco pizza but on my left cheek and down my neck. Yah. Too vivid? It was so bad I had to go to the hospital for 4 days. The doctors gave me a treatment which made the top layer of my skin peel off in the areas where my skin was infected. At the end of it all, half of my face was noticeably 2 shades lighter than the other and let me tell you… the kids in my fifth grade class were more than happy to point it out.
 

I went through a lot of fashion phases. Very cringy, angsty and grundgy. The photos below speak louder than a 1000 words:

 

 

I had a pet pigeon named Albert. One day, my brother and I saw an egg in it's cage and found out he was actually a girl. The next day a gorgeous male stud of a pigeon came perched on my patio. Furious by the fact this bird impregnated my bird… I couldn't help but feel happy for the two. The two love birds eventually flew off together and I haven't seen her since.
 

I don't have any piercings or tattoos. I've had my ears pierced 3 times and it just never worked out.
 

The radio in my mom's car broke and we never bothered to fix it. But for some reason there was a 50 cent album stuck in it so we just played that on repeat for YEARS. I'll take ya to the candy shop.....
 

I LOVE Gordon Ramsay.  Fuck the debate between him and Jamie Oliver.  When I feel upset, I watch reruns of Kitchen Nightmare or Hell's Kitchen.  There's just something about his affirmative and deliberate tone that calms me down. As he would say, this blog is - DONE.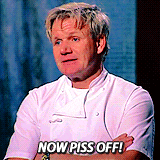 What did you find most shocking about me? Comment down below!
Please reload